3 from Hell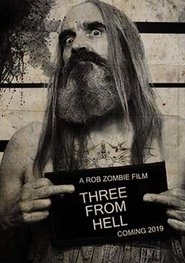 Synopsis:
Rob Zombie surprised and delighted his fans more fans with the announcement of '3 from Hell', sequel to 'The Renegades of the Devil' whose first images we saw recently. Bill Moseley, Sid Haig and Sheri Moon Zombie are back in this long awaited sequel (or prequel) and a new image of Moon's character, Baby Firefly, has just come out.
Handcuffed, accompanied by police and with a shirt in which we can read the phrase 'Free Baby', the sexiest psychopath in the history of cinema seems to be being escorted by the police to go to trial. According to DreadCentral, Zombie commented on the picture by saying, "Look at the bullet wounds in his arm," which he later withdrew when he regretted the possible spoiler, but does this mean that the trio of assassins survived the shooting at the end of The Renegades of the Devil?
If this were so, it seems that we would already know new details of the plot. The three would have been in prison since then and the end of the 2005 film was not a nightmare, since the charismatic murderers would have survived. The cast is completed by Danny Trejo, Clint Howard, Daniel Roebuck and Tom Papa and we hope to have the film ready by the beginning of 2019. Is there a desire?
Original title
3 from Hell