Gringo
An American corporation, the Mexican cartel, chances are this won't end well.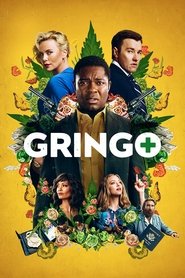 Synopsis:
The new film by Nash Edgerton opens tomorrow, and the story is quite attractive: Harold Syinka is an American businessman who must travel to Mexico for work, but he gets into serious trouble when he discovers that the company he works for is involved in business with local drug traffickers.
In the video we will see how Oyelowo confesses that it is the first time he works in a comedy, although here it is not a film in which his character will provoke hilarious laughter, but it is worked in a rather subtle way. "They did not write it thinking about someone like me, but I thought it was very funny, I was looking for a comic role, and it fell right for me," he confesses. A challenge for this good actor, whom we remember for his participation in 'Selma' and 'The Planet of the Apes'.
For his part, Theron tells us that he always wanted to work with this director since he saw his short "Spider", and finally they could coincide in this film (which also highlights as a producer). About his character, he confesses that he was attracted by all the atrocity that he could become, but above all, he enjoyed playing him surrounded by a great cast. "As a producer, you definitely ask yourself 'Is this funny?', You do a little of that, but I realize that I also ask myself those questions when I do drama," the actress points out.
You already know, 'Gringo: Wanted alive or dead' will premiere at your favorite cinema next week. Reserve a seat in your favorite cinema with Fandango. Watch the trailer below:
Stars
Alan Ruck, Amanda Seyfried, Charlize Theron, David Oyelowo, Harry Treadaway, Joel Edgerton, Kenneth Choi, Paris Jackson, Sharlto Copley, Thandie Newton